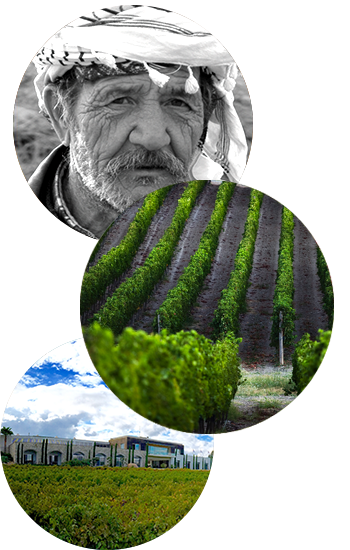 "SUCCESS
Is it Urla's soil?, sun? Is it about the blessed rains? Is it about the things that we've learned all around the world? Is it our work power? Is it our faith? Is it because we work a lot? Is it our love? our passion?
What was the reason of the success?
According to us it was all, our bottles are full of each of them…"
Can Ortabaş has established the Uzbaş Farm 15 years ago. It's Uzbaş Arberatoryum with its current state. The vineyard sets discovered in the ground of this green museum, in which there are 1900 different plant types, took us to an quite different journey.
This journey taken together with Can Ortabaş, Bülent Akgerman, Deniz Barçın and Yavuz Karacasulu was not only about the dream of revitalizing the vineyard sets, but it's also about the basis of adopting a culture left thousands of years ago which belongs to us in the peninsula.
The intention made a perfect sense.
Urla Winery Inc. Co., whose main activity is Winery and Viniculture is working on the revitalization, re-diversification, and selection of the local grapes,
the varieties of Anatolia and noble international grapes within 15 years.
These studies gives each day a gift to us such as our 10 kinds of wine, good agricultural practices, our recognition in the world of winemaking, our 2010 Arkitera prize.
Apart from all, Urla, which had to leave its seeds during the exchange period, now becomes a happier and more fertile peninsula as it returns to itself.
Except for being honoured thanks to the improvements such as Urla winning over 150 awards nationally and internationally or Urla Karası taking part in the World Atlas of Wine, these improvements have taken the attention of agro tourism and gastro-savvy towards this route. Around 80 thousand visitors who come to visit Urla Winery's vineyards, had also the chance to visit Urla, to stay in Urla and to get to know the local flavors. Urla has become and important route for the people who are enamored of gastronomy and winemaking.